The registration form below is for dancers who want to perform in our 2018 show
ONE MORE CHANCE TO ENTER!!! New deadline: August 14th

Date of the show: November 18, 2018
Rehearsals: November 14 to 17, 2018 (Wed 14 PM hours, Thursday and Friday morning/noon hours, Sat PM hours)
Location of the show: Regent Theater, Arlington, MA (Greater Boston)
Cost of traveling/lodging not provided.
Cost of participation in the audition: $15, that is 15 USD (need to be submitted in addition to the form below to complete your registration)
Info about our previous and upcoming shows:
www.patreon.com/seyyide
www.facebook.com/sarabdancecompany
Once you submit BOTH
the registration form below with all answers, AND

your payment of $15 (15 USD) sent via paypal to http://paypal.me/seyyide
then you'll receive a unique login and password that you could use to access the following protected page with instructions and video of the choreography you need to learn for your video audition.
Ready? Start by filling the registration form below...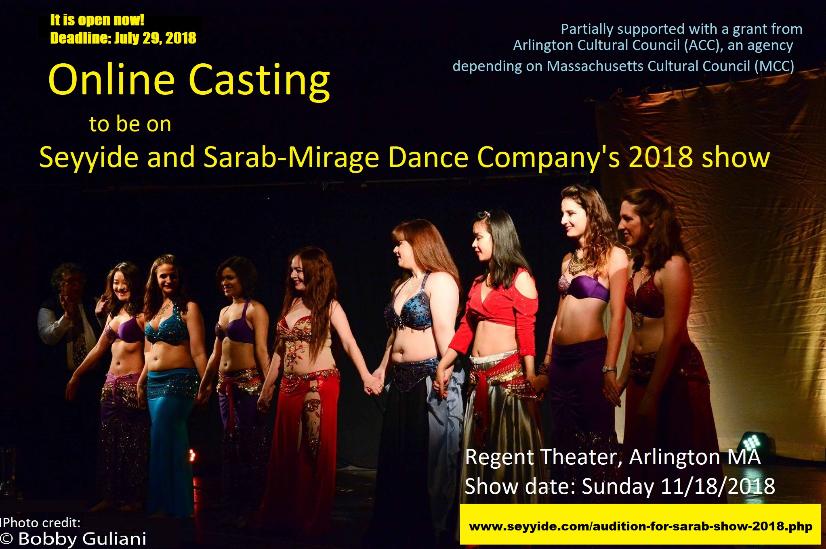 REGISTRATION TO AUDITION to perform with SARAB-MIRAGE on November 18, 2018, Arlington, MA, USA